As an elite athlete, you have put in a ton of hard work to develop your capabilities, but until you develop a rock solid mental game, you won't perform consistently when it matters most.
You have probably tried the fluffy and cookie-cutter advice perpetuated by sport culture:
Be Positive
Forget about it
Don't worry about it
It is easy to promote these fluffy and cookie-cutter hacks.
But when you build your mental game by patching together all these quick fixes – it's like building a house out of straw – it is not sustainable and will fall apart in the face of adversity and pressure.
Instead, you need to build your mental game – like you would a brick house – out of practical & personalized strategies that deliver reliable and repeatable results.
Here is our 3 Step System to Win the Mental Game – aka how to build your brick house.
STEP 1: Blueprint
You wouldn't build a house without a blueprint – and in the same manner you can't work on your mental game without knowing what to work on.
Our assessment helps you identify the mental skills you want to work on as well as the mental blocks that are holding you back.
All of the mental skills are connected but you want to make sure you build a strong foundation and take care of the performance identity first.
The key here is to clarify your unique priorities so that when you start using the tools and building your mental game, you do so in the most effective way.
Also, it's important to identify and clear your biggest mental blocks.
This process is about increasing your awareness. You need to be open, honest with yourself, and curious.
Here is the visual of our CEP Mindset Assessment – Aka your Blueprint for your Mental Skills & Mental Blocks: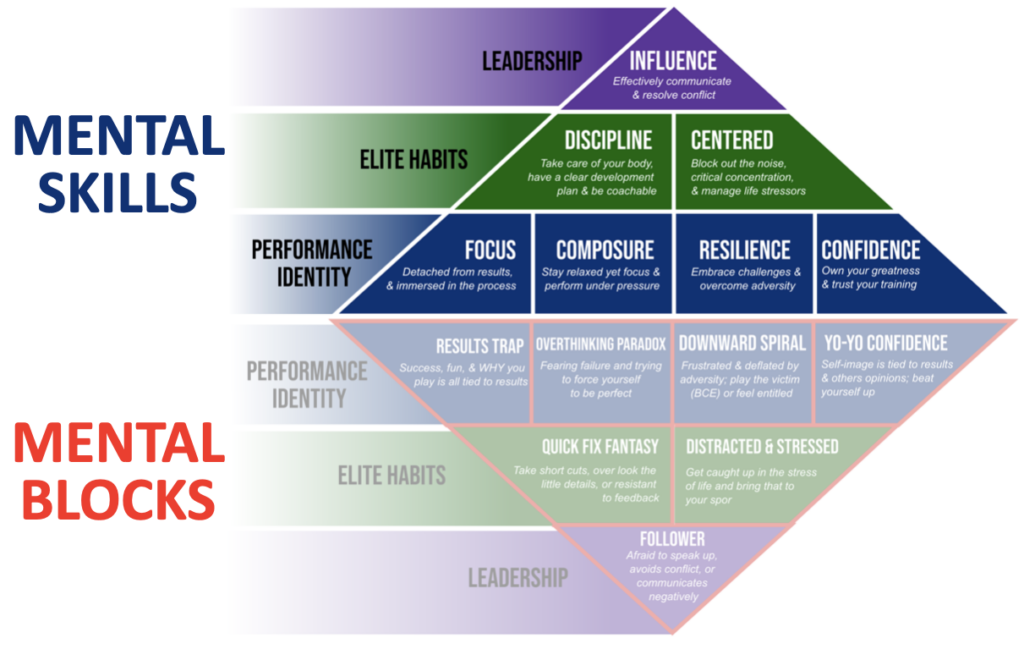 STEP 2: Personalize Tools
Now that you a have blueprint and clear priorities it's time to get to work.
Our 4 fundamental tools are the cornerstones to winning the mental game and building your brick house.
You need to embrace the creative process and find what works for you.
We have a full toolbox of tools, but here is the summary of the 4 fundamentals:
STEP 3: Upkeep & Upgrades
At this point you are starting to solidify your mental game. But don't get complacent. This is the never-ending step.
Although you can get results quickly if you dive in and do the work, remember there are no quick fixes.
Like how a brick house needs the floors swept everyday – your mental game needs constant work and refinement.
You are constantly evolving as a person.
Your situation shifts over time.
A new season generally means a new landscape.
So constant work, refinement, and upgrades are key to long-term results.
You need to update your priorities as things change. You should upgrade your alter ego and reset routine over time.
You constantly tweak and tinker with your personalized scorecard.
Your imagery scripts and intentions evolve with you over time.
The mental game is a constant process of self-awareness, self-discovery, and growth.
It never ends.
However, we like to use our 5 milestones to make the mental game more tangible for each season. And each season you start over.
The numbers below are generic and would be altered depending on the sport. Note that we use 95% plus in the zone to avoid the trap of perfection.
The 5 Milestones of the Mental Game:

To summarize, the 3 steps to winning the mental game aka building your brick house are:
Blueprint

Breakdown what you are working on and identify your top priorities
Personalize Tools

Build your brick house with practical tools that are personalized for you
Upkeep & Upgrades

It's a never-ending process of adapting, refining, and doing the work – there are no quick fixes
It is the system that has helped 10,000's of elite athletes and high performers get into the zone and achieve Consistent Elite Performance.
If you are interested in building your brick house quickly and effectively, then you may be a good fit for our 1-on-1 coaching programs.
The first step is to get on the phone with our admin team.