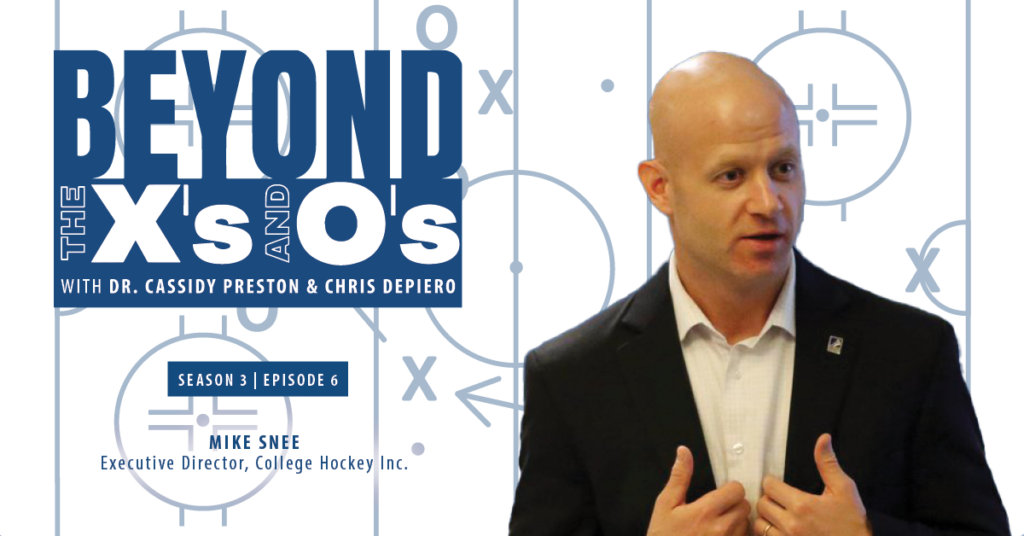 Mike Snee is the Executive Director of College Hockey, Inc.'s. In this role he guides College Hockey Inc.'s marketing efforts to promote Division I men's college hockey and its work to help grow the number of institutions offering the sport. Snee is also a member of the Board of Directors of both USA Hockey and U.S. Hockey Hall of Fame. Prior to joining College Hockey Inc. Snee was the Executive Director for Minnesota Hockey. Before joining Minnesota Hockey, Snee spent nine years with Minnesota Sports & Entertainment, the parent company of the NHL's Minnesota Wild. Snee, a 1991 graduate of the University of St. Thomas in St. Paul, MN, started his sports business career as an intern with the Minnesota North Stars, and also worked for the NBA's Minnesota Timberwolves and the Minnesota Moose of the now-defunct International Hockey League.
Mike helped us take a critical lens to the culture of hockey and questioned many of the long-standing and accepted norms in hockey. Specifically we covered:
Concerns with the structure and system versus the people
The importance of government control with rinks
The Minnesota High School Model vs the Academies & current minor hockey models in Toronto, Detroit, Chicago, Boston etc.
Why do we send so many kids away from home at 14 – 17?
It was an insightful discussion that really went Beyond the X's and O's.
The Beyond the X's & O's Podcast is hosted by Dr. Cassidy Preston, a Mental Performance Coach & founder of CEP Mindset, & Chris De Piero, a High-Performance Coach that has spent the past 30+ years in the game of hockey within the NHL, Hockey Canada, OHL, and European pro hockey. Cassidy is one of Chris' former players where they won OPJHL Championship together in 2006. This podcast was born from their shared passion for helping coaches and leaders to go Beyond the X's & O's and develop the 'human' skills of leadership. Outside of the podcast they work together at CEP Mindset where they coach elite athletes, coaches, teams, and high-performing executives to achieve Consistent Elite Performance.