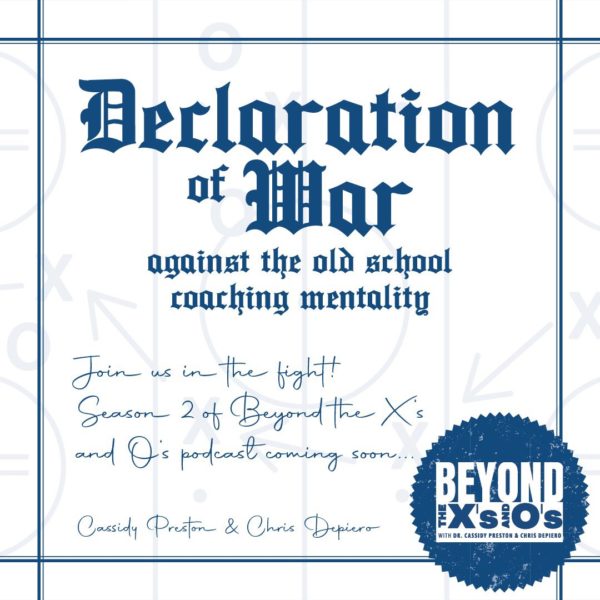 In Season 2 of Beyond the X's and O's, we focused on breaking down the Old School coaching mentality and shifting the culture to foster a New Era of coaching.
Check out all 10 episodes of Season 2 here:
1. Declaration of War Against the Old School Coaching Mentality
In Episode 1, we introduce the theme of this season: Declaration of War Against the Old School Coaching Mentality. We explain what the Old School mentality entails and why it does not work with the new generation of athletes, and then provide you with contrasting coaching and leadership principles that work.
2. It's NOT All or Nothing: A Look at Process vs. Results
In this episode, we wanted to take a critical lens to the All or Nothing: Toronto Maple Leafs series (on Amazon Prime) to break down what effective leadership is, highlight why coaches should NOT take an all or nothing approach to results and discuss effective strategies to getting athletes immerse in the process.
3. How to Build a Team of Leaders (with Leadership Coach Marc Guevremont)
In this episode, Leadership Coach Marc Guevremont drops a ton of knowledge about maximizing leadership and creating a culture of excellence. He provides some great examples from his experience working with teams and coaches at various levels, from major junior and NCAA to the NHL.
4. A Practical Look at Building a New Era of Coaching
In this episode, we provide more practical advice for overcoming the Old School mentality and embracing the New Era of coaching from 4 different perspectives: Head Coaches, Assistant Coaches, parents, and players.
5. The Alter Ego Effect (with Peak Performance Coach Todd Herman)
Todd Herman is a Peak Performance Coach that has worked with the highest achievers in sports and business to help them achieve their most ambitious goals for over two decades. In this episode, we cover important topics such as: identity, the subtractive process, and what needs to change in the culture of sport.
6. Changing the Game Project (with John O'Sullivan)
John O'Sullivan is an internationally known TEDx Speaker, the host of the Way of Champions Podcast, has consulted with the US Olympic Committee, and has coached for over 20 years on the youth, high school and college level. In this episode, you'll see that John is undoubtedly a huge advocate in our war against the Old School coaching mentality and offers some great practical advice.
7. Coaching Better Every Season (with Dr. Wade Gilbert)
In this episode, Dr. Wade Gilbert, a performance consultant, professor, advisor, author, and mental performance coach, joins us to discuss the notion that as a coach, you might not be able to fully control winning, but you can control the experience your team has.
8. Transformational Coaching (with Dr. Jean Côté)
Dr. Jean Côté, a professor in the School of Kinesiology and Health Studies at Queen's University and established researcher, joins us on this episode to provide research-based evidence showing the effectiveness of transformational coaching, as well as the challenges to make transformational coaching the new norm.
9. Shifting the Culture (with Brock McGillis)
Brock McGillis is the first openly gay men's professional hockey player, public speaker and a leading activist in the LGBTQ2S+ space. McGillis shares his lived experiences combined with his education, giving listeners an honest, inspiring perspective that is crucial to understanding the need for a culture shift away from the Old School ways of thinking.
10. Mental Health in Sport (with HONE's Jessica Renney and Paula McQuaid)
In our final episode of our declaration of war against the old school coaching mentality, Jessica Renney and Paula McQuaid, co-founders of HONE Athletics, spoke to the importance of mental health and the needed shift in sport. This honest and insightful discussion around mental health in sport is exactly why we dedicated this season to fight against the 'Old-School' ways of thinking.