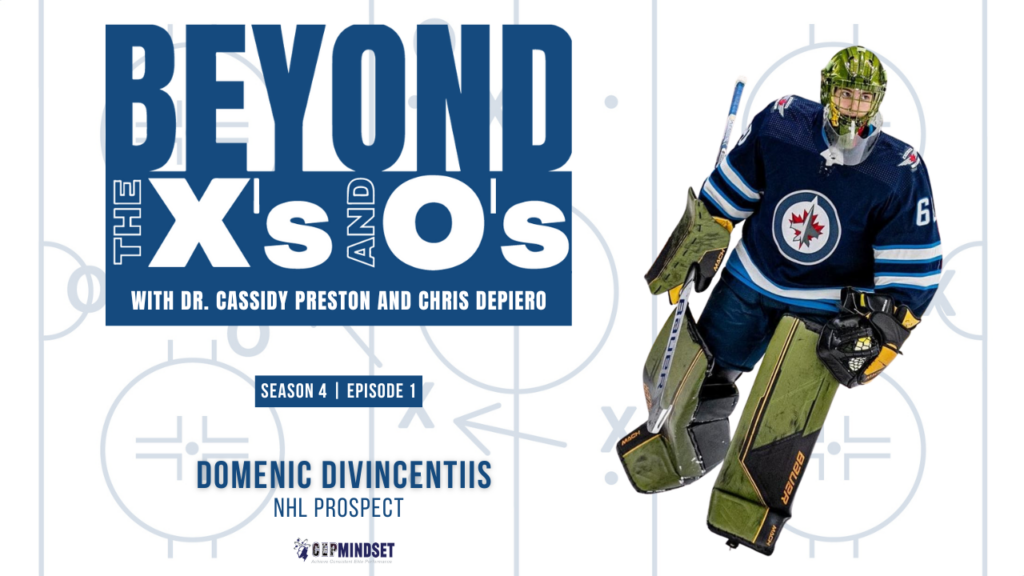 Domenic DiVincentiis is a prospect for the Winnipeg Jets, who currently plays for the North Bay Battalion. Over the past four years, he's worked with Dr. Cassidy Preston to help give him a mental edge on and off the ice as he continues to climb the ranks.
In this interview Dom discusses how he has personalized his mental game to work for him. He shares insights into his mindset and the lessons he learned that helped him earn the OHL goalie of the year and sign his entry level deal with the Winnipeg Jets.
Here's what you'll discover:
Overcoming adversity: Dom's story of resilience and how he turned challenges into opportunities.
Prioritizing mindset: How focusing on mental strength led to unexpected achievements.
The why behind the goals: Dom's approach to staying motivated and driven.
Battling overthinking: Practical strategies for staying present and avoiding predictions.
Personal scorecard: Dom's secret to maintaining peak performance both on and off the ice.
Laser focus: How to handle distractions and setbacks with unwavering determination.
Whether you're an athlete, coach, or parent, Dom's insights on mental performance are a game-changer. Don't miss this episode as we go "Beyond the Xs and Os" to unlock success in sports and life.
The Beyond the X's & O's Podcast is hosted by Dr. Cassidy Preston, a Mental Performance Coach & founder of CEP Mindset, & Chris De Piero, a High-Performance Coach that has spent the past 30+ years in the game of hockey within the NHL, Hockey Canada, OHL, and European pro hockey. Cassidy is one of Chris' former players where they won OPJHL Championship together in 2006. This podcast was born from their shared passion for helping coaches and leaders to go Beyond the X's & O's and develop the 'human' skills of leadership. Outside of the podcast they work together at CEP Mindset where they coach elite athletes, coaches, teams, and high-performing executives to achieve Consistent Elite Performance.