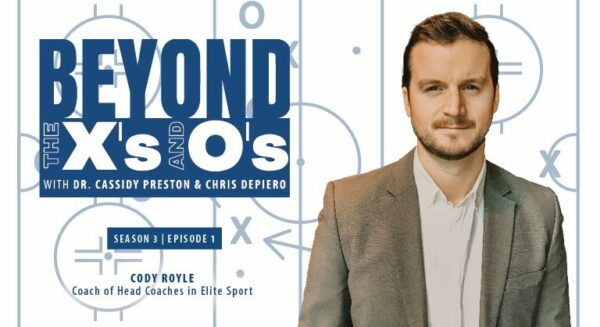 The Beyond the X's & O's Podcast is hosted by Dr. Cassidy Preston, a Mental Performance Coach & founder of CEP Mindset, & Chris De Piero, a High-Performance Coach that has spent the past 30+ years in the game of hockey within the NHL, Hockey Canada, OHL, and European pro hockey. Cassidy is one of Chris' former players where they won OPJHL Championship together in 2006. This podcast was born from their shared passion for helping coaches and leaders to go Beyond the X's & O's and develop the 'human' skills of leadership. Outside of the podcast they work together at CEP Mindset where they coach elite athletes, coaches, teams, and high-performing executives to achieve Consistent Elite Performance.
Season 3 of Beyond the X's and O's is off to a strong start. Check out Episode 1 where we have Cody Royle on as our first guest of the season.
Cody is the Head Coach of AFL Team Canada, the men's national team for Australian Rules Football. He was born and raised in Australia, but has lived in Canada for over a decade now. He has spent the last number of years researching, interviewing, and writing about leadership, culture, and performance. As a result, he is the author of two books on these subjects: Where Other Won't and The Tough Stuff. In addition, he has his own podcast titled Where Others Won't, where he has interviewed the likes of Joe Dumars, Adam Grant, Patti McCord, Michael Gervais, James Kerr, Rasmus Ankersen, Tony Granato, and Peter Deboer.
This discussion was great to have as it validated a lot of what our assumptions have been about coaching. Cody provided both anecdotal and empirical evidence to support the concept that coaches need to look after themselves to be high performers themselves, which in turn allows for their athletes to achieve peak performance. This self-care is in nutrition, sleep, fitness, and, most importantly, in having someone to work with; A listening partner who is outside of the inner circle, who has no judgement, and is totally impartial.
Cody's discussion is a great kick off to season 3 of the Beyond the X's and O's Podcast. In this episode, we cover:
The weight of caring

The benefits of a listening partner

The importance of leadership self-care

How today's athletes need coaches that can connect
Listeners are sure to take away numerous insights on how to be an effective coach and leader with today's athlete.
Find out more about Cody HERE.