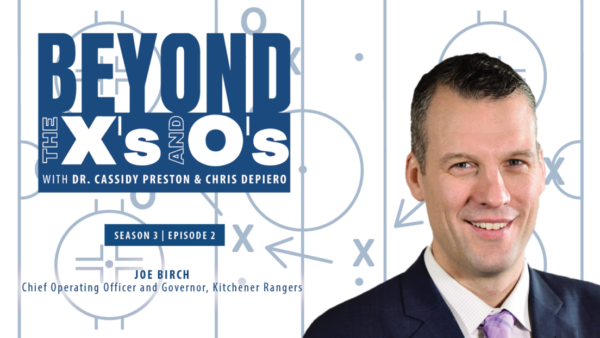 The Beyond the X's & O's Podcast is hosted by Dr. Cassidy Preston, a Mental Performance Coach & founder of CEP Mindset, & Chris De Piero, a High-Performance Coach that has spent the past 30+ years in the game of hockey within the NHL, Hockey Canada, OHL, and European pro hockey. Cassidy is one of Chris' former players where they won OPJHL Championship together in 2006. This podcast was born from their shared passion for helping coaches and leaders to go Beyond the X's & O's and develop the 'human' skills of leadership. Outside of the podcast they work together at CEP Mindset where they coach elite athletes, coaches, teams, and high-performing executives to achieve Consistent Elite Performance.
Episode 2 of BXO's Season 3 features Joe Birch, the current Chief Operating Officer and Governor for the storied Kitchener Rangers of the Ontario Hockey League. Joe played in the OHL with the Rangers and the London Knights before finishing his playing career at Western University. He then embarked on a coaching career where he was an Assistant Coach with the St. Thomas Stars and had the chance to work with San Jose Sharks captain Logan Couture. His next stop was working at the OHL Head Office for 12 years. There, he created and developed the position of Director of Player Recruitment and Education Services, which then led to a Senior Director of Hockey Development and Special Events position, and, lastly, he was Vice President of Hockey Development with the OHL.
Joe's diverse background in hockey provided us with some great insights into applying the principles of leadership to non-coaching positions.
Specifically, we covered:
His hockey journey and how he has been at the forefront of newly created positions within the OHL and the impact that they have had

How he has drawn on his playing, coaching, and operational roles within the game to develop the "human" skills of leadership

His work with the Kitchener Rangers on initiatives surrounding Diversity, Equity, and Inclusion, and how that has been such a rewarding experience for all who are involved

How he has conceptualized his organization chart to optimize communication and keep the organization as a whole at the heart
Enjoy this episode and stay tuned for more.