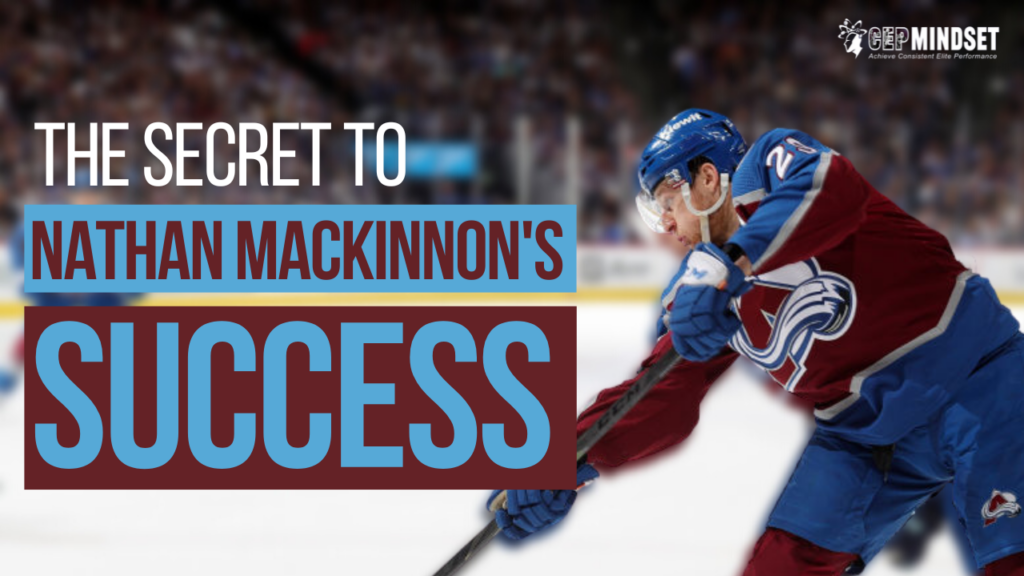 Nathan MacKinnon was the first overall pick in the 2013 NHL draft.

In his first year with the Colorado Avalanche he:

Put up 63 points in 82 regular season games – rounding out to 0.77 points per game.

Went over a point a game in the postseason as he racked up an additional 10 points in 7 playoff games.

Capped off his first season by winning the Calder Trophy as Rookie of the Year

He was on the big stage and everything was looking up.

Heck, he was getting mentored by and training with Sidney Crosby – one of the best players in the game.

So, he had all these things going for him and he was getting ready for year two, where he was expected to move into superstar status.

But what happened?


The Burden of Expectations
In his second season in the NHL, MacKinnon dropped to 38 points in 64 games – a disappointing result relative to the high expectations and hype surrounding him.

Reflecting after the season, he stated that he might have been too confident going in – he was still riding the high from the previous year.

This is a classic example where the expectations and 'shoulds' create noise and tension in a player's mind, which ultimately decreases their performance.

So with something to prove going into his third NHL season, he ended up getting his production back up to 52 points in 72 games – about the same points per game as his first season.

But he was still not where he wanted to be.


The Compound Effect of Negative Results
At this point, he had not achieved his desired results in back to back seasons. This created a compound effect which, for most athletes, fuels their inner critic and erodes their self-confidence.

Things didn't get any better for MacKinnon in his fourth season. His results decreased again – this time he only put up 53 points in 82 games – 10 points less than his first season in the NHL.

After four seasons in the NHL he was beyond frustrated.

He had mentally hit rock bottom in his professional career – on the Spittin' Chiclets Podcast he revealed how he was comparing himself to Austin Matthews, Connor McDavid, and Nikita Kucherov.

Not only did comparing his results to Connor McDavid's 100 point season eat him up inside as a hockey player, but it also made him question his whole identity as a person.

In a way, he was experiencing imposter syndrome. He was questioning his ability as a player and if he would ever amount to all the hype.

So what did he do?


Finally, MacKinnon made the decision to start working on the one area of his game he had not given his full attention – the mental game.

He made it a priority and found a Sport Psychologist. He learned how to manage his emotions so he could deal with all the pressure and expectations. He developed strategies to help block out the noise and focus on the things within his control.

By working on his mental game he was able to find personalized strategies that worked for him and a new way to think about the game.

What were the results?

His next season he doubled his points per game – finishing with 97 points in 74 games played.

He finally entered into superstar status and he has never looked back since.

Notably, he has gone on to:
Win the Lady Byng Memorial Trophy in 2020 for the most Sportsmanlike Player

Win the Stanley Cup in 2022

And put up 111 points in 71 games for a 1.56 points per game in the 22/23 season

Case in point – no player is too good to work on the Mental Game.


The Best Athletes Prioritize their Mental Game
In fact, it's often the best players that attribute a large part of their success to their mental game.

Look no further than: Kobe Bryant, Michael Jordan, Lebron James, Rafael Nadal, Serena Williams, Cristiano Rinaldo, Lionel Messi, Christine Sinclair, Tom Brady, Simon Biles, Derek Jeter, Hayley Wickenheiser, and so many other elite athletes.

Not everyone is going to be Nathan MacKinnon, but everyone can benefit from working on their mental game.
Every Athlete Should be Consistently & Effectively Training Their Mind
We at CEP Mindset believe that every athlete should be consistently and effectively training their mind because it is the key to achieving Consistent Elite Performance, and more importantly, enjoying the journey.

But unfortunately, too many athletes are not effectively and consistently training their mind. They are left with inconsistent results and end up getting frustrated with themselves and the game they love.

The good news is you don't have to figure out how to effectively train your mind on your own, and you don't have to wait until you hit rock bottom.

Our CEP Mindset system has helped over 10,000 athletes. Whether you are at the top of the game like MacKinnon or you are currently underperforming – our system delivers repeatable and reliable results.

We rely on 4 practical and fundamental strategies that need to be personalized for you. These strategies have worked for professional and Olympic athletes, as well as amateur and youth athletes.

As a result, we have become one of the largest mental performance coaching firms in the world – so when you are ready for 1-on-1 mental game coaching, just click the button below to get started and we will find the CEP coach that is the best fit for you.